EC-200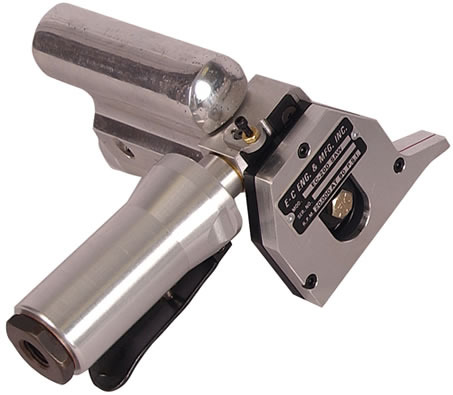 EC-200 Saw Features
With the speed of 18,000 to 20,000 RPM, this saw is ideal for cutting non-ferrous material using carbide tipped saw blades
Small, compact, yet powerful
Handle specially designed for comfort and stability when guiding the tool
Safety guard retracts to cover blade at end of cut
Slot on side of safety guard makes it easy to mount a vacuum attachment
The guide line on the extended front of the guard gives the operator clear vision to follow scribed line
Unique locking device when changing blade
Simple but effective depth control
Low maintenance (no angle gears)
Left-handed version of this tool is available by special order
Specifications

Free Speed – 20,000 RPM
Blade Capacity – 2 inches (Blade not included)
Length – 6 7/8 inches
Width – 5 1/2 inches
Weight – 3 pounds
Minimum Hose Size – 5/16 inch
Air Intake (FPT) – 1/4 inch
Maximum Cut Depth – 0 to 1/4 inch
Arbor Diameter – 7/16 inch
---
EC-200 Product Illustration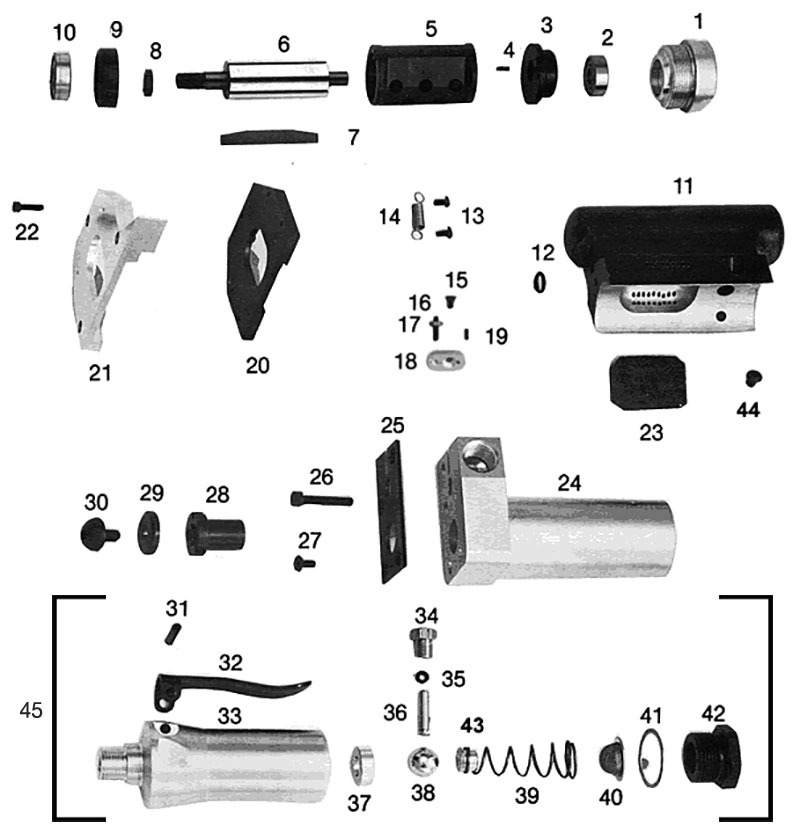 Click diagram to enlarge
---
EC-200 Saw Parts List (Right hand)
Index, Part #, Description, Quantity
1 - EC 2010 End Cap, 1
2 - EC 2020 Bearing (Rear), 1
3 - EC 2030 Bearing Plate (Rear)-RH, 1
4 - EC 3162 Cylinder Pin, 1
5 - EC 2050 Cylinder, 1
6 - EC 2060 Rotor-RH, 1
7 - EC 2070 Rotor Blade, 4
8 - EC 2080 Rotor Collar, 1
9 - EC 2090 Bearing Plate (Front), 1
10 - EC 2100 Bearing (Front), 1
11 - EC 2110 Handle, 1
12 - EC 2120 O-Ring, 1
13 - EC 2450 Spring Screw (Short), 2
14 - EC 2140 Spring, 1
15 - EC 2150 Lock Screw, 1
16 - EC 2160 Stop Screw, 1
17 - EC 2170 Nut, 1
18 - EC 2180 Stop, 1
19 - EC 3162 Cylinder Pin, 1
20 - EC 2200 Slide, 1
21 - EC 2210 Cutter Housing-RH, 1
22 - EC 2220 Screw (Cutter Housing/Spring)-RH, 3
23 - EC 2230 Muffler, 1
24 - EC 2240 Motor Housing 200 Saw-RH, 1
25 - EC 2250 Guide-RH, 1
26 - EC 9995 Lock Screw (Handle/Housing), 1
27 - EC 2270 Screw, 4
28 - EC 2280 Cutter Adapter-RH, 1
29 - EC 2290 Cutter Retainer, 1
30 - EC 2300 Cutter Screw-RH, 1
EC 2325 Throttle Body Sub-Assembly (Index 45)
31 - EC 8718 Throttle Lever Pin, 1
32 - EC 8729 Throttle Lever, 1
33 - EC 2330 Throttle Body, 1
34 - EC 8728 Bushing, 1
35 - EC 8726 O-Ring, 1
36 - EC 8727 Plunger, 1
37 - EC 8722 Valve Seat, 1
38 - EC 8723 Steel Ball-Valve, 1
39 - EC 8725 Tapered Spring, 1
40 - EC 3110 Air Screen, 1
41 - EC 3109 Hose Adapter Gasket, 1
42 - EC 2420 Hose Adapter, 1
43 - EC 8724 Spring Retainer, 1
44 - EC 2235 Screw, 2
Saw Blades (Sold Separately)
EC 7977 - 2 inch saw blade (12, 18 or 22 teeth)
EC 8416 - 2 inch saw blade (60 teeth, carbon steel)
EC 8498 - 2 inch saw blade (44 teeth, carbon steel)
EC 8499 - 2 inch saw blade (22 teeth, carbon steel)
---
EC-200 Saw Parts List (Left hand)
Index, Part #, Description, Quantity
1 - EC 2010 End Cap, 1
2 - EC 2020 Bearing (Rear), 1
3 - EC 2032 Bearing Plate (Rear)-LH, 1
4 - EC 3162 Cylinder Pin, 1
5 - EC 2050 Cylinder, 1
6 - EC 2062 Rotor-LH, 1
7 - EC 2070 Rotor Blade, 4
8 - EC 2080 Rotor Collar, 1
9 - EC 2090 Bearing Plate (Front), 1
10 - EC 2100 Bearing (Front), 1
11 - EC 2110 Handle, 1
12 - EC 2120 O-Ring, 1
13 - EC 2450 Spring Screw (Short), 2
14 - EC 2140 Spring, 1
15 - EC 2150 Lock Screw, 1
16 - EC 2160 Stop Screw, 1
17 - EC 2170 Nut, 1
18 - EC 2180 Stop, 1
19 - EC 3162 Cylinder Pin, 1
20 - EC 2200 Slide, 1
21 - EC 2212 Cutter Housing-LH, 1
22 - EC 2222 Screw (Cutter Housing/Spring)-LH, 3
23 - EC 2230 Muffler, 1
24 - EC 2242 Motor Housing 200 Saw-LH, 1
25 - EC 2252 Guide-LH, 1
26 - EC 9995 Lock Screw (Handle/Housing), 1
27 - EC 2270 Screw, 4
28 - EC 2282 Cutter Adapter-LH, 1
29 - EC 2290 Cutter Retainer, 1
30 - EC 2302 Cutter Screw-LH, 1
EC 2325 Throttle Body Sub-Assembly (Index 45)
31 - EC 8718 Throttle Lever Pin, 1
32 - EC 8729 Throttle Lever, 1
33 - EC 2330 Throttle Body, 1
34 - EC 8728 Bushing, 1
35 - EC 8726 O-Ring, 1
36 - EC 8727 Plunger, 1
37 - EC 8722 Valve Seat, 1
38 - EC 8723 Steel Ball-Valve, 1
39 - EC 8725 Tapered Spring, 1
40 - EC 3110 Air Screen, 1
41 - EC 3109 Hose Adapter Gasket, 1
42 - EC 2420 Hose Adapter, 1
43 - EC 8724 Spring Retainer, 1
44 - EC 2235 Screw, 2
Saw Blades (Sold Separately)
EC 7977 - 2 inch saw blade (12, 18 or 22 teeth)
EC 8416 - 2 inch saw blade (60 teeth, carbon steel)
EC 8498 - 2 inch saw blade (44 teeth, carbon steel)
EC 8499 - 2 inch saw blade (22 teeth, carbon steel)
---
EC-200 Saw Service & Maintenance Instructions
Operation:
The tool is designed to operate on 90 PSI air pressure using a 3/8 inch hose up to 8 feet in length. If additional hose is required, a 1/2 inch or larger hose should be connected to the 3/8 inch hose.
Lubrication:
An automatic in-line filter lubricator is highly recommended to increase tool life as well as keeping the tool in sustained operation. If in-line lubricator is not used, the tool should be lubricated several times daily by disconnecting the air hose and injecting a few drops of a high grade No. 10W machine oil in the air inlet.
---
Product Safety Warnings
For your safety, make sure you apply standard shop practices at all times when using this tool. Your failure to apply these practices may result in serious bodily injury.
Protect your eyes, ears, and other parts of your body by using safety equipment - respirator, safety goggles, ear mufflers and other necessary safety devices - at all times when operating this tool or when you are in the area where this tool is being operated.
For maximum stability and safety, only operate these tools with both hands on the tool. Follow the cutting tool manufacturer's mounting and operating instructions and avoid any direct contact with the sharp cutting edges of the tool.
Modification or improper use of this tool, including, but not limited to, removing guards, mufflers, or other safety devices, voids all responsibilities of the manufacturer.
Excessive air pressure, over and above 90 PSI, will increase the RPM, the sound level, and can be a damaging factor to both the operator and the tool.
Stay alert! Watch what you are doing! Do not operates this tool when under the influence of medication, alcohol, or drugs!
Disconnect the air supply before changing the cutter and whenever making adjustments or repairs.
Do not remove warning tags until both sides have been read and understood by the person(s) responsible for safety in your plant.
If you need any other information, consult your supervisor or contact:
EC Eng. & Mfg., Inc.
P.O. Box 1090
Mountain Home, AR 72654-1090
Phone: (870) 425-3979
Fax: (870) 424-2228
Email: info@ecengmfg.com