EC-7C-2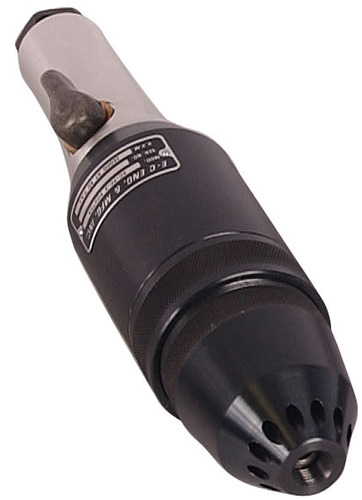 EC-7C-2 Router Features
Compact Design
Flip throttle or optional Dead Man Lever (DML) for operator's ease and comfort
High power output in relation to its size
Designed to be hand-operated, but equally suitable for fixture mounting
Counter Clockwise Rotation (CCR) model is also available
Collet spindle supported by high precision double bearings
The shank of the router bit is supported by an outboard bearing
Router nose is easily adjustable for different cutting depth
Exhaust air is keeping the cutting area clean from chips and shavings
Specifications

Speed - 16,000 RMS
Length - 11 inches
Diameter – 2 1/2 inches
Weight – 5 3/4 pounds
Collet Sizes - 1/4, 3/8, and 1/2 inch
Minimum Hose Size - 3/8 inch
Air Intake (FPT) - 3/8 inch
Exhaust - Front Ported
---
EC-7C-2 Product Illustration

Click diagram to enlarge
---
EC-7C-2 Router Parts List (Flip Throttle)
Index, Part #, Description, Quantity
7 - EC 4227 Retaining Ring, 1
8 - EC 4226 Nylon Bearing Cap, 1
9 - EC 1532 Rear Ball Bearing (Rotor/Shaft), 1
10 - EC 3237 Bearing Plate (Rear), 1
11 - EC 3365 Key (Rotor/Gear), 2
12 - EC 3234 Rotor, 1
13 - EC 3236 Rotor Blade, 4
14 - EC 1002 Drive Shaft-RH, 1
15 - EC 1003 Front Plate, 1
16 - EC 1004 Lock Nut, 1
17 - EC 1005 Lock Washer, 1
18 - EC 9179 Lock Nut, 1
19 - EC 1006 Ball Bearing (Requires 2), 2
20 - EC 1007 Bearing Retainer, 1
21 - See Chart Nose 1
22 - See Chart Collet, 1
23 - EC 1008 Collet Nut-RH, 1
24 - See Chart Retaining Ring, 1
25 - See Chart Bearing, 1
29 - EC 3162 Cylinder Pin, 1
30 - EC 1001 Motor Housing, 1
31 - EC 3225 Cylinder, 1
32 - EC 1016 O-Ring, 1
EC 1253 Throttle Body Sub-Assembly**
1 - EC 3102 Hose Adapter, 1
2 - EC 3109 Hose Adapter Gasket, 1
3 - EC 3110 Air Screen, 1
4 - EC 9184 Throttle Body*, 1
5 - EC 9185 Valve Bushing, 1
6 - EC 9186 Valve, 1
6 - EC 9701 Valve Stop Pin, 1
26 - EC 3252 Throttle Lever, 1
27 - EC 3399 O-Ring, 2
28 - EC 3280 Throttle Lever Pin, 1
*EC 9184 - Throttle Body includes EC 9185 - Valve Bushing and EC 9701 - Valve Stop Pin
**For a complete Throttle Body Sub-Assembly, order EC 1253
---
EC-7C-2 Router Parts List (CCR)
Index, Part #, Description, Quantity
7 - EC 4227 Retaining Ring, 1
8 - EC 4226 Nylon Bearing Cap, 1
9 - EC 1532 Rear Ball Bearing (Rotor/Shaft), 1
10 - EC 3237 Bearing Plate (Rear), 1
11 - EC 3365 Key (Rotor/Gear), 2
12 - EC 3234 Rotor, 1
13 - EC 3236 Rotor Blade, 4
14 - EC 1022 Drive Shaft-LH, 1
15 - EC 1003 Front Plate, 1
16 - EC 1004 Lock Nut, 1
17 - EC 1005 Lock Washer, 1
18 - EC 9179 Lock Nut, 1
19 - EC 1006 Ball Bearing (Requires 2), 2
20 - EC 1007 Bearing Retainer, 1
21 - See Chart Nose 1
22 - See Chart Collet, 1
23 - EC 1023 Collet Nut-LH, 1
24 - See Chart Retaining Ring, 1
25 - See Chart Bearing, 1
29 - EC 3162 Cylinder Pin, 1
30 - EC 1001 Motor Housing, 1
31 - EC 3225 Cylinder, 1
32 - EC 1016 O-Ring, 1
EC 1253 Throttle Body Sub-Assembly**
1 - EC 3102 Hose Adapter, 1
2 - EC 3109 Hose Adapter Gasket, 1
3 - EC 3110 Air Screen, 1
4 - EC 9184 Throttle Body*, 1
5 - EC 9185 Valve Bushing, 1
6 - EC 9186 Valve, 1
6 - EC 9701 Valve Stop Pin, 1
26 - EC 3252 Throttle Lever, 1
27 - EC 3399 O-Ring, 2
28 - EC 3280 Throttle Lever Pin, 1
*EC 9184 - Throttle Body includes EC 9185 - Valve Bushing and EC 9701 - Valve Stop Pin
**For a complete Throttle Body Sub-Assembly, order EC 1253
---
EC-7C-2 Router Parts List (DML)
Index, Part #, Description, Quantity
7 - EC 4227 Retaining Ring, 1
8 - EC 4226 Nylon Bearing Cap, 1
9 - EC 1532 Rear Ball Bearing (Rotor/Shaft), 1
10 - EC 3237 Bearing Plate (Rear), 1
11 - EC 3365 Key (Rotor/Gear), 2
12 - EC 3234 Rotor, 1
13 - EC 3236 Rotor Blade, 4
14 - EC 1002 Drive Shaft-RH, 1
15 - EC 1003 Front Plate, 1
16 - EC 1004 Lock Nut, 1
17 - EC 1005 Lock Washer, 1
18 - EC 9179 Lock Nut, 1
19 - EC 1006 Ball Bearing (Requires 2), 2
20 - EC 1007 Bearing Retainer, 1
21 - See Chart Nose 1
22 - See Chart Collet, 1
23 - EC 1008 Collet Nut-RH, 1
24 - See Chart Retaining Ring, 1
25 - See Chart Bearing, 1
29 - EC 3162 Cylinder Pin, 1
30 - EC 1001 Motor Housing, 1
31 - EC 3225 Cylinder, 1
32 - EC 1016 O-Ring, 1
EC 8720 Throttle Body Sub-Assembly*
EC 3102 Hose Adapter, 1
EC 3109 Hose Adapter Gasket, 1
EC 3110 Air Screen, 1
EC 8725 Tapered Spring, 1
EC 8724 Spring Retainer, 1
EC 8723 Steel Ball-Valve, 1
EC 8722 Valve Seat, 1
EC 8721 Throttle Body (Housing), 1
EC 8727 Plunger, 1
EC 8726 O-Ring, 1
EC 8728 Bushing, 1
EC 8729 Throttle Lever, 1
EC 8718 Throttle Lever Pin, 1

*For a complete Throttle Body Sub-Assembly, order EC 8720
---
When changing Collet size: Order corresponding Nose, Bearing, and Retaining Ring. See below.
1/4 Collet
EC 1010 Collet
EC 1011 Nose
EC 9015 Ball Bearing
EC 9016 Retaining Ring
Nose Thread 1/2-20
3/8 Collet
EC 1012 Collet
EC 1013 Nose
EC 9019 Ball Bearing
EC 9017 Retaining Ring
Nose Thread 5/8-18
1/2 Collet
EC 1014 Collet
EC 9182 Nose
EC 9053 Ball Bearing
EC 9060 Retaining Ring
Nose Thread 11/16-16
---
EC–7C-2 Router Service & Maintenance Instructions
Operation:
The tool is designed to operate on 90 PSI air pressure using a 3/8 inch hose up to 8 feet in length. If additional hose is required, a 1/2 inch or larger hose should be connected to the 3/8 inch hose.
Lubrication:
An automatic in-line filter lubricator is highly recommended to increase tool life as well as keeping the tool in sustained operation. If in-line lubricator is not used, the tool should be lubricated several times daily by disconnecting the air hose and injecting a few drops of a high grade No. 10W machine oil in the air inlet.
Disassembly:
Clamp the throttle body in a soft-jawed vise with the tool in a vertical position. After removing the nose and collet nut, and using a suitable spanner wrench, unscrew (left hand threads) the bearing retainer ring. The motor housing may now be unscrewed from the throttle body with the aid of a strap wrench.
Bump the rear of the motor housing lightly on the bench to remove the motor unit from the rotor. The rotor shaft and related components may now be pressed out the front of the housing. The throttle valve may be removed by driving the throttle lever pin out of the throttle lever. Unscrew the hose adapter for inspection and cleaning of the air screen.
---
Product Safety Warnings
For your safety, make sure you apply standard shop practices at all times when using this tool. Your failure to apply these practices may result in serious bodily injury.
Protect your eyes, ears, and other parts of your body by using safety equipment - respirator, safety goggles, ear mufflers and other necessary safety devices - at all times when operating this tool or when you are in the area where this tool is being operated.
For maximum stability and safety, only operate these tools with both hands on the tool. Follow the cutting tool manufacturer's mounting and operating instructions and avoid any direct contact with the sharp cutting edges of the tool.
Modification or improper use of this tool, including, but not limited to, removing guards, mufflers, or other safety devices, voids all responsibilities of the manufacturer.
Excessive air pressure, over and above 90 PSI, will increase the RPM, the sound level, and can be a damaging factor to both the operator and the tool.
Stay alert! Watch what you are doing! Do not operates this tool when under the influence of medication, alcohol, or drugs!
Disconnect the air supply before changing the cutter and whenever making adjustments or repairs.
Do not remove warning tags until both sides have been read and understood by the person(s) responsible for safety in your plant.
If you need any other information, consult your supervisor or contact:
EC Eng. & Mfg., Inc.
P.O. Box 1090
Mountain Home, AR 72654-1090
Phone: (870) 425-3979
Fax: (870) 424-2228
Email: info@ecengmfg.com